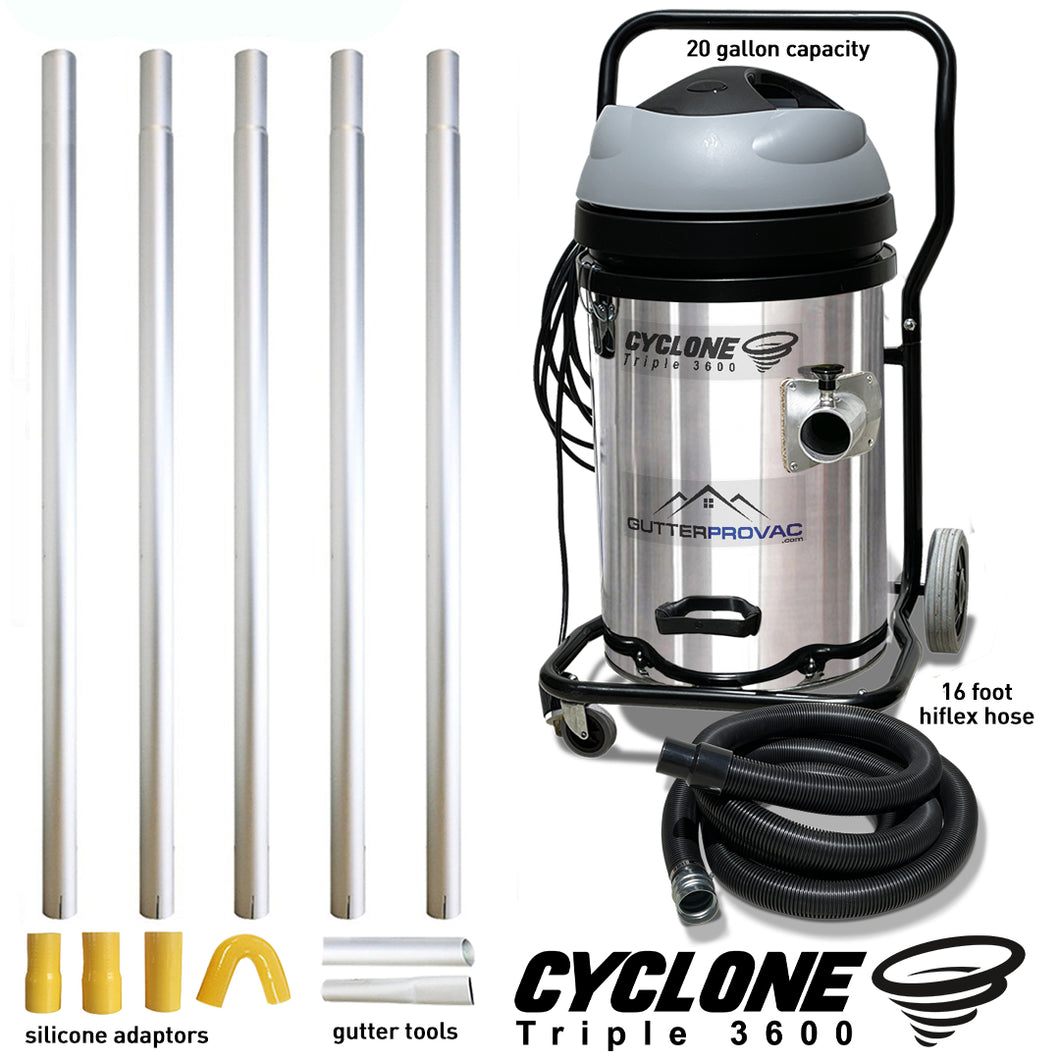 If you're looking for a professional-grade gutter vacuum system that can help you clean your gutters quickly and easily, the Cyclone Triple 3600 is the perfect option. This system comes with three powerful motors that give you the power you need to remove debris quickly and easily. With the addition of our 20-foot aluminum pole kit, you can easily reach gutters up to 2 stories high, all from the safety of the ground. Included is a nozzle accessory kit that includes a flexible silicone 135 degree gooseneck adaptor, 12" standard nozzle, 12" crevice tool, and 3 silicone adaptors. The Cyclone Triple 3600 comes with a 20-gallon debris collection bucket, so you can easily contain all of the debris that you collect while cleaning your gutters without having to frequently stop to empty the tank.
A Machine Built to Last
The Cyclone machine's tank is made of heavy-grade stainless steel and has a 2 ½ inch diameter side inlet made of durable aluminium alloy, allowing for greater airflow than ever before. Simply insert the hose coupling, hook up the poles, and unleash the monster suction power this puppy delivers. The system is unparalleled in performance.
Powerful Cyclonic Side Inlet
Thanks to the innovative side inlet, the incoming air creates a strong cyclone effect inside the tank, allowing for stronger airflow. The machine comes with a metal debris deflector that prevents debris from hitting the filter on entry, so it swirls around the tank and falls to the bottom instead. Everything about this machine speaks to high quality, from the two-stage European-built motors to the durable hose, the solid couplings, the rugged steel frame, and the robust motor housing.  
Reusable HEPA Filter
This cyclonic vacuum for gutter cleaning comes with a high-performance HEPA filter that prevents any debris or particulates from inhibiting the motors or creating a blockage, thus resulting in reliable, consistent suction power from start to finish. It's healthier for the environment, too, since the filter can be easily brushed or washed out after each job. So with the reusable and washable HEPA wet/dry cartridge filter, there's no need to buy replaceable cartridges every month.
Emptying the tank is a cinch, simply unclip and remove the head, and then tip out the contents of the tank into a trash bag.
Strong, Flexible Hose
The high-quality standard 16-foot hose is made of durable Hiflex PVC and is lightweight and super flexible. A longer 32-foot hose is also available to purchase as a separate add-on; sorry, no swapping out.
Heavy Gauge Power Cord
Like other vacuums in our line the vacuum comes with a 28-foot heavy gauge power cord which has a 4 prong NEMA push and twist plug that is compatible with most larger generators (240v @ 30 amps) We recommend a generator with a minimum running watts of 5500). We also offer a 60 foot extension cord, allowing you move distance and flexibility.
NOTE: CAN ONLY BE USED WITH A GAS POWERED GENERATOR: RECOMMENDED - MIN 6500 Watts PEAK, 30 AMP ELECTRICAL SOURCE WITH 4 PRONG NEMA PUSH AND TWIST SOCKET
Kit Includes:
Cyclone 3600 20 Gallon Vacuum
16 foot Hose
5 x 4 foot Aluminum Gutter Poles
Features:
CLEAN GUTTERS WITH EASE
- The Cyclone Triple 3600 Gutter Vacuum makes it easy to clean your gutters, even from the ground. With its powerful 3600 watt, 3 x motor, this vacuum provides plenty of suction power to get the job done quickly and easily.
CLEAN GUTTERS FROM THE SAFETY OF THE GROUND
- No need to set foot on a ladder! This gutter vacuum kit can reach up to 20 ft or 2 stories high, so you can clean the gutters without ever leaving the ground.
DURABLE AND RELIABLE
- The tank is made of high quality stainless steel, and it can hold up to 20 gallons.
LIGHTWEIGHT AEROSPACE ALUMINUM GUTTER POLE
- Made from lightweight aerospace aluminum (each weighs 1lbs 7oz).
HEAVY DUTY STEEL FRAME
-This 20 Gallon Cyclone Triple 3600 Gutter Vacuum features a heavy duty steel frame and is equipped with cushion wheels and castors for easy maneuverability. With its robust construction and versatile design, it's ideal for a variety of tasks in both industrial and commercial settings.
TIPPING CHASSIS FOR EASY EMPTYING
- The Tipping Chassis makes it easy to empty your bin, and the locking front castors ensure that it stays in place while you tip it.
Vacuum Specifications
| | |
| --- | --- |
| Model | Cyclone Triple 3600 |
| Tank Capacity | 20 Gallons |
| Rated Power | 3600W (3x 1200W) |
| Rated Voltage | 220-240V (Generator Required) |
| Normal Frequency | 50Hz / 60Hz |
| Water Lift | 95 inches |
|  Air Flow | 2840 gallons³/minute |
| CFM | 380 |
Pole Specifications:
| | |
| --- | --- |
| Max Length | 20 feet |
| Length Per Pole | 4 feet |
| Diameter | 2 inches |
| Weight Per Pole | 1.6 lbs |
For more information, please check out the Cyclone instruction manual. 
---
Testimonials
Much safer than using a ladder to clean gutters for my clients

Bob Daly - Southport Gutter Cleaners
Changed the way we operate, safer and more effective cleaning.... all at ground level.

John Keely - Johnny Raingutter & Rooftop Cleaning
Replaced our expensive, time consuming cherry pickers and scaffolding.

Toni Carro